Congratulations, dancers and Welcome to the DTCB Virtual Auditions! This page will give registered DTCB Auditionees step-by-step instructions to successfully learn, record, and upload your Audition Video Assignments.
PLEASE READ AND FOLLOW ALL INSTRUCTIONS CAREFULLY.
---
Table of Contents
You may jump to a section by clicking on any of the chapter titles listed:
---
Welcome Letter
Dear DTCB 2020 Auditionees,
The Brooklyn nonprofit education organization, Dancewave, is sending you luck, love, and wisdom for your DTCB 2020 Audition. COVID-19 has impacted high school juniors and seniors the hardest, and you have the exclusive opportunity to audition online for up to 60 college dance programs at once. Congratulations!
The DTCB auditions have sparked over $10 million in college scholarships over the past decade for hundreds of dancers, just like you. There is a high demand to participate in the DTCB annual auditions, which is why it sells out every year. Many dancers would do anything to have this opportunity, which is why Dancewave will be strict with our 2-week submission deadline. After two weeks, your Audition spot is no longer reserved and may be offered to another registrant.
BRING YOUR A GAME! In-person, DTCB auditionees would have 30+ schools sitting in chairs screening for talent for over an hour. The pressure is on, and you have no choice but to give your best. Dancewave highly encourages you to demand the same caliber of excellence for the online audition video. There is no difference. College dance department directors and other decision-makers will be reviewing your materials in-depth to make program and scholarship decisions (if applicable).
The DTCB 2020 Audition Panel will follow up with you via email after the virtual event. If considered, the school will email you by May 2021, if not sooner. If you receive a scholarship or program acceptance letter from a college or university, they encourage students to reply promptly. Program acceptance and scholarship offers are 100% up to the college Audition Panelists. Dancewave is not involved in the decision-making process, nor will we know the names of students who have received offers.
BONUS THIRD VIDEO OPTION! Feature any dance style of your choice (outside of Ballet and Modern) for up to 3 minutes! There is no additional fee involved. You may to submit your third video at the same time as Ballet and Modern, or you may submit this video later, up until October 7. Find more information about the third video option in the Audition Video Assignments section.
Please read the following Audition instructions in full. Dancewave is rooting for you. If you have any questions, please email DTCB@Dancewave.org.
Sincerely,
Aliya Perry, Special Events Director, and the DTCB 2020 production team
---
12 steps to complete the Auditions process
Mark your 2-week Audition Video submission deadline date on your calendar, and plan out the amount of time needed to complete all the required steps. Reminder: once you receive access to this information along with your Auditions Portal password, you will not be able to extend your deadline date by switching into another group.
Secure your recording equipment: you'll need a video recording device and a sound system to play the accompanying music tracks while you record.
Practice the movement as many times as you need to feel prepared. Consider practicing with a mirror, or recording a draft video of yourself performing the combination to review and self-critique.
Wear proper attire and gather your equipment:
BALLET – Dancers should wear a solid color leotard (black or an expressive color, no patterns), black or pink convertible tights, and ballet slippers. Hair should be pulled back in a clean bun. If you are not filming in a studio with a barre, you will need to use the back of a solid color chair or other stable piece of furniture.
MODERN – Dancers should be barefoot or wear dark colored socks, depending on their space and comfort level. Dancers are encouraged to wear comfortable pants (solid color, no patterns) and anything else needed to feel safe.
Warm-up fully before recording your video! This is crucial both for your performance and your safety.
Follow Video Recording Instructions carefully.
Follow Video Editing Instructions carefully, leaving at least 3 days to edit your Ballet footage into one complete file.
Follow Youtube Upload Instructions carefully, and have your final Ballet and Modern Audition Video hyperlinks ready when submitting.
Finalize your Resume (see detailed specifications below)
Finalize your Headshot (see detailed specifications below)
Due to COVID-19, if you don't feel safe having your photo taken by a professional photographer, please have someone in your family use a digital camera or smartphone to capture a headshot for you.
Have your credit card ready at time of submission to pay final Audition registration balance.
Commit to doing your best work! Dance fully and express yourself, and remember to bring your A-game!
---
Headshot specifications:
Provide a recent digital photo of the Senior/Auditionee from the shoulders up. Must be uploaded in .jpg or .png format; Must be high resolution (minimum 300 ppi; not pixelated or blurry); Dimensions: 816 pixels wide by 1056 pixels high [equivalent to 8.5×11″ page].
Resume specifications:
Maximum 2-page PDF format only, standard letter size 8.5×11″ page. Include your contact information, birthdate, school name, years attended, current grade, GPA, achievements, activities, dance training and performances, etc.
---
Audition Video Assignments
IMPORTANT:
In order to guarantee acceptance and scholarship consideration by Audition Panelists, Students MUST submit video footage of themselves performing the pre-set DTCB Ballet and Modern combinations. The only instance in which dancers may perform choreography outside of the pre-set DTCB combinations is in their Third Optional Video (see details below).
Mandatory Curriculum Outline:
DTCB BALLET:
Barre: Pliés, Tendus, Battements Degages, Fondu/Rond de Jambe, Frappés, Grand Battements
Center: Adage, Petit Allegro
DTCB MODERN:
Combination and Improvisation
Ready to learn the DTCB Ballet and Modern Audition materials? Click each red button below for instruction videos and details:
Optional Third Video:
Choose your strongest dance style outside of Ballet and Modern.
Some examples include: Hip Hop, Pointe, Salsa, Chinese Dance, Afro-Caribbean, Bollywood, and more!
Introduce yourself at the beginning of your video: tell Audition Panelists your name, chosen dance style, and 1-2 sentences about your background in this particular style.
Video may be a maximum 3 minutes long.
Video may feature your own choreography/composition, or something you've learned from your dance instructor, a guest choreographer, a live or online class, or video.
Can be submitted at Audition registration along with Ballet & Modern Video links, or separately up until October 7.
---
Video Recording Instructions
NOTE: Each combination must be recorded as a single, continuous clip – no editing multiple takes together within one combination. You may record as many different takes as you like and choose the best one.
Before recording, make sure you have carefully read through the instructions below, fully mastered the Audition Video Assignment Materials, prepared a safe dance space, and warmed up your body to dance.
RECORDING INSTRUCTIONS FOR ALL VIDEOS
Find a safe, spacious area with good lighting to record. Please choose a calm indoor setting, ideally with a simple background (no mirrors behind you while dancing).
Find and test your camera equipment to ensure best possible recording quality. You may use your smartphone, a webcam, computer or video camera – whatever you have available that will produce the highest possible image quality.
Find and test a sound system to play the music while you record. Video recording must include live sound of the accompanying tracks, so that Panelists may rate your musicality.
Ensure that your body is framed so that your movement is visible throughout the recording, without getting cut off at any point.
TIP: Try a test run while doing the movement in full, and adjust your space or movement as needed.
Secure your camera in a location where it can remain stable while you are dancing and keeps all of your movement within the frame. You may need to use a tripod, furniture, or straps.
If using your smartphone, please set to Airplane Mode. This avoids any possible notifications interrupting your recording.
If possible, set your recording preferences to high quality/HD. If using an iPhone, navigate to your Camera Recordings Settings and change your recording speed to 4k 24 fps per second.
Record your video in landscape mode (if using a phone, set it up horizontally).
Check to make sure your camera lens is clean, or wipe gently with a soft cloth, if necessary.
Lighting: Film your testimonial indoors with a diffused light source facing you so that your face is visible and well lit. Ensure there is no light source behind you or facing the camera, as this will make your image silhouetted and difficult to see.
Place your phone/video recording device on a stable, stationary surface. Using a tripod is ideal, if available. Avoid having another person hold your phone to record your testimonial, but if necessary make sure they have a stable grip! We want your video to be as stable and clear as possible.
Record and introduction of yourself at the beginning of your Ballet and Modern video recording sessions before you begin dancing.
Please make a note of special recording notes on each of the Ballet and Modern Audition Video Assignment Pages.
---
Video Editing Instructions
Allow plenty of time in your schedule to edit your Ballet Video combination clips together into a single video file. We recommend leaving at least 3 days as a buffer before your submission deadline to edit your footage.

By the end of your editing process, you should have a Ballet Video that is no more than 20-25 minutes long, including your introduction and dance clips. Your Modern and Optional Third Video should be recorded in a single take, so no editing will be necessary.
You can use your own preferred video editing application that you're already comfortable with, such as iMovie, Final Cut Pro, etc.
New to working with video? Not to worry.
You can use OpenShot, a free, beginner-friendly video editing application available for download to Windows or Mac. Click here to download, and check out the helpful tutorial below to help get you started.
OpenShot Video Editing Tutorial highlights:
:00 – 2:05 – Introduction to navigating the program, Importing your clips (in this case, your Ballet combination clips), and Timeline navigation.
9:03-9:40 – Saving and Exporting your project for Youtube.
PLEASE NOTE: Auditionees may NOT insert any additional text, footage, effects, or other content into their Audition Videos outside of the original dance recording of the pre-set DTCB Audition material and instructions provided. Doing so may disqualify your Audition Video from Panelists' consideration.
---
Video Uploading Instructions
NOTE: In order to ensure the best possible viewing experience for Audition Panelists, we will only accept video links uploaded to Youtube. (Vimeo uploads no longer accepted). We appreciate your cooperation and apologize for the inconvenience.
After your Ballet Audition Video has been edited, you should end up with the following separate videos:
Ballet Audition Video that includes clips of each Ballet combination performed on the right and life side, compiled together into one longer video. Your final Ballet Audition Video should be no more than 20 minutes long after editing.
Modern Audition Video including your Improv at the end. Your Modern Audition Video should be no more than 3 minutes long.
Optional Third Video (Max 3 minutes long) in a dance style of your choice. Feel free to take additional time to if needed – you have until October 13 to submit your Third Video only.
Each video should be titled with your First & Last Name and the dance style. Example: Amber Brown Ballet, Amber Brown Modern, Amber Brown Salsa
When you have completed your Audition Video Uploads to Youtube, be sure to copy your hyperlink URL (beginning with https://youtube.com/….) for each video and keep it stored somewhere you can access it easily during your final submission.
---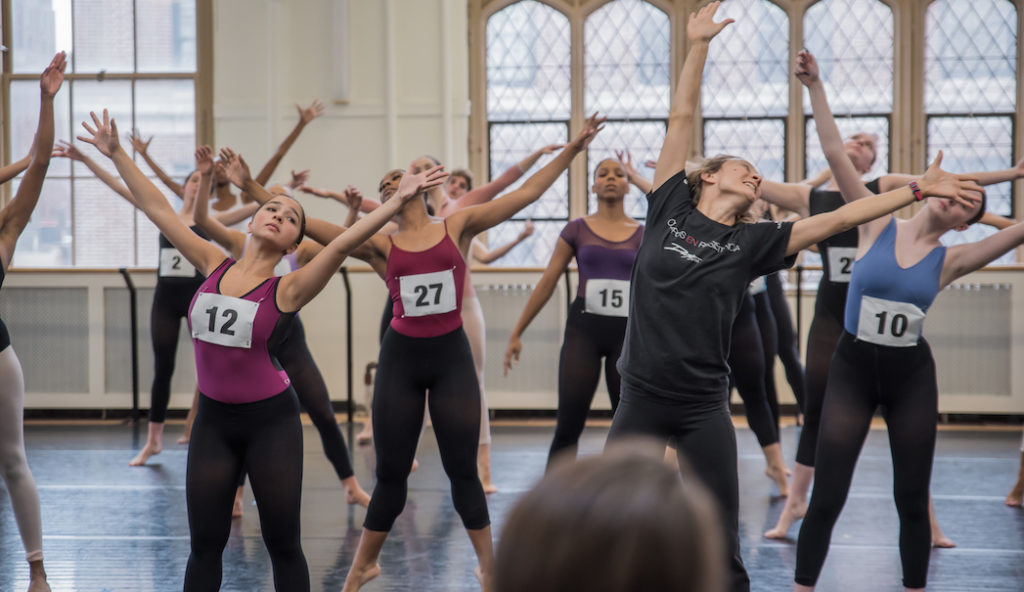 Final Checklist
Finalized Resume according to specifications
Finalized Headshot according to specifications
Audition Video links according to specifications
Credit card
---
Have you completed all of the above steps and have each item from the Final Checklist in hand? Congratulations, you're ready to submit!
Refer to your recent email from DTCB@dancewave.org – with Subject Line "Audition Video Assignment Notification" – for your Video Submission Link and password.