Ballet Virtual Auditions Video Assignment Materials
OVERVIEW | VIDEO ASSIGNMENTS | RECORDING INSTRUCTIONS | EDITING INSTRUCTIONS | UPLOAD INSTRUCTIONS

Ballet
Taught by Sindy Folgar-Llumipanta
---
REQUIRED ATTIRE: Dancers should wear a solid color leotard (black or an expressive color, no patterns), black or pink convertible tights, and ballet slippers. Hair should be pulled back in a clean bun. If you are not filming in a studio with a barre, you will need to use the back of a solid color chair or another stable piece of furniture.
Important Notes for Recording Your Ballet Audition Video
1. Remember what Audition Panelists are looking for:
Don't just execute the Ballet combinations – dance them! Panelists want to see your musicality, expression, how you can be yourself within the Ballet form.
2. Stretch and warm up fully before you begin recording.
3. Introduce yourself to the Audition Panel at the beginning of your Ballet session, including an (optional) sentence about your dance background or insights.
"Hello, my name is X and this is my DTCB 2021 Ballet Audition Video. I've been studying ballet for X number of years. I believe X about dance is important because YZ. Thank you for considering me for your college's dance program and scholarship opportunity."
4. Record and edit your clips in the same order that they are listed in the Curriculum Outline:
Pliés
Tendus from 5th
Battements Degages
Fondu/Rond de Jambe
Frappés
Grand Battements
Adage
Petit Allegro
5. Record both right and left sides
Sindy will demonstrate each combination on one side only. You are responsible to learn, perform and record each combination on both sides for your Audition Video.
You will need to edit your various clips from each Ballet combination together into a single, larger file. Auditionees should record right side and then the left with the music track running through, unless you need to adjust your spacing in between. Edit your Ballet combination clips back-to-back in your final Ballet Audition Video. (More details on this in the Editing section of the Audition Video Instructions page).
6. Record Barre combinations from a completely flat side view angle.
Audition Panelists require a flat side view in order to see the rotation of transitional moves and spinal alignment. Use the Ballet Audition Video Material as a reference for how your orientation and placement during the Barre section should look.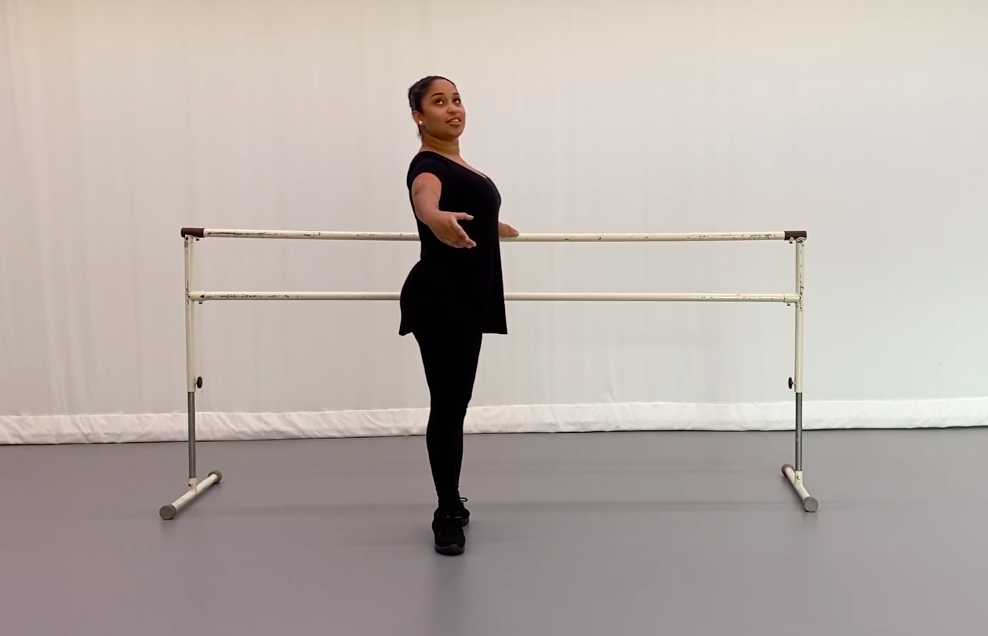 7. To avoid copyright blockages during upload, please copy and paste the following into the Description of your Ballet video on Youtube:
For educational purposes only. I do not own the rights to this music.

Music featured: David Howard Presents a Great Ballet Class With Pianist Joe Cross

Purchase link: https://music.apple.com/us/album/david-howard-presents-great-ballet-class-pianist-joe/895484906
8. Breathe, relax, and DANCE your fullest!
---
Ballet Audition Video Demonstration
---
Ballet Audition Music Tracks
Track titles are listed below each audio file. Click the three dots on each music track to download to your personal device and use for musical accompaniment with the labeled combination.
---