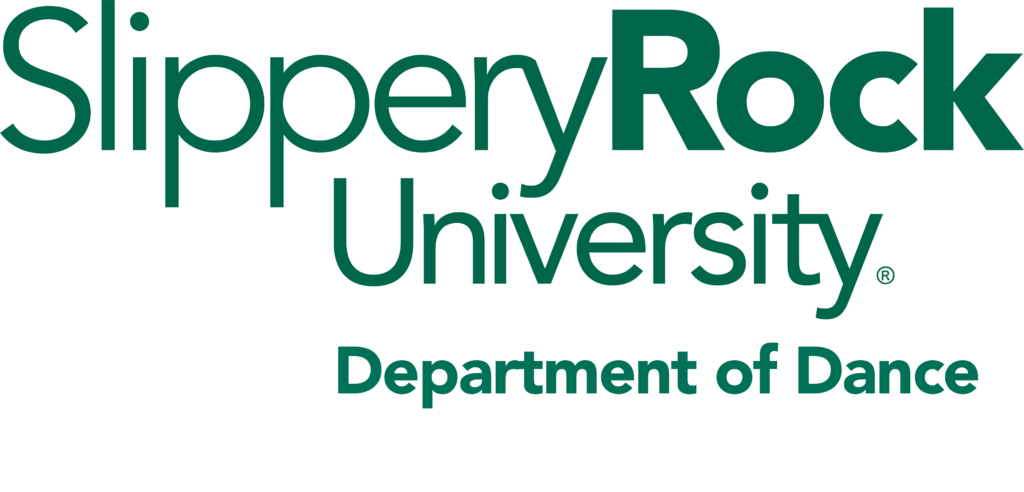 Slippery Rock University Department of Dance
*AUDITION PANELIST
LOCATION: Slippery Rock, PA
YEAR EST.: 1987
DEPARTMENT LEADERSHIP: Jennifer Keller
DTCB COLLEGE REPRESENTATIVES: Jennifer Keller, Lindsay Viatori
DEGREE PROGRAMS OFFERED: BFA in Dance – Concentration in Performance and Choreography; BFA in Dance – Concentration in Business Administration; BA in Dance; 4+1 masters degree option in Adapted Physical Activity
PROGRAM EMPHASIS: Modern/Contemporary, Ballet, Jazz, Bharatanatyam, Contact Improvisation
CONTACT: Website | dance@sru.edu
SOCIAL MEDIA: Facebook | Instagram | Twitter
PROGRAM OVERVIEW:
The Department of Dance at Slippery Rock University promotes dance as an art form through the creative technical, expressive and intellectual development of each student in a personalized environment.  Superior education in performance, choreography and teaching, with additional components of wellness for dance, dance technology, and intercultural experience, prepares students for their chosen profession and entrepreneurial role in society. SRU is an accredited member of the National Association of Schools of Dance. 
SRU Dance offers a BFA degree with Concentrations in Performance/Choreography or Business Administration; a BA degree for students seeking a double-major; and a 4+1 program permitting dance majors to obtain a master of science degree in adapted physical activity. This masters option allows dance majors to incorporate dance into health and wellness programs for people of all ages with disabilities.
The dance curriculum is designed for students seeking multilayered careers as dance professionals. SRU prepares its graduates to transition through different phases of their professional and personal lives while sustaining employability and increasing financial stability as dance professionals.
Program highlights include two dance companies, guest artist residencies, creative research courses, faculty-student research projects, Yoga Teacher Training, internships, performances/touring, dance clubs, NHSDA honorary, grant opportunities, and international travel.
NOTABLE ALUMNI:
-Alumni in dance companies (Ephrat Asherie Dance; Diavolo Dance Company; Abby Z and the New Utility; Staycee Pearl Dance Project; Attack Theatre, Mystic India: The World Tour; Tania Isaac Dance, among others)
-Sesame Street Live, Busch Gardens, Disney, and other theme park performers
-Follow Spot Operator (Sasha Velour National Tour); Lighting Designer
-Filmmaker; Film Editor
-Alumni teaching in performing arts high schools (The Grier School for Girls, Lincoln Park Performing Arts Charter School, Cab Calloway School of the Arts)
-Alumni in health professions (Physical Therapist; Yoga instructor; Exercise Physiologist; Fitness Instructor; Chiropractor; Occupational Therapist)
-Alumni in higher education (University of California Irvine, Columbia University SC, Ball State University, Tarrant County College TX, University of Nevada Reno, among others)