How DTCB benefits Colleges

Celebrating the 10th Annual DTCB as a Live Virtual Event: October 16-18 & 23-25
DTCB saves colleges time by streamlining your dance program's recruitment process, and harnesses valuable interactions with a diverse group of highly motivated college-bound dance students.
Typically held on an NYC campus, DTCB gives college dance department recruiters access to 30% more prospective student leads and auditionees for your program admission and scholarship considerations as a live virtual event this year.
Scroll down to learn more about DTCB registration benefits for colleges.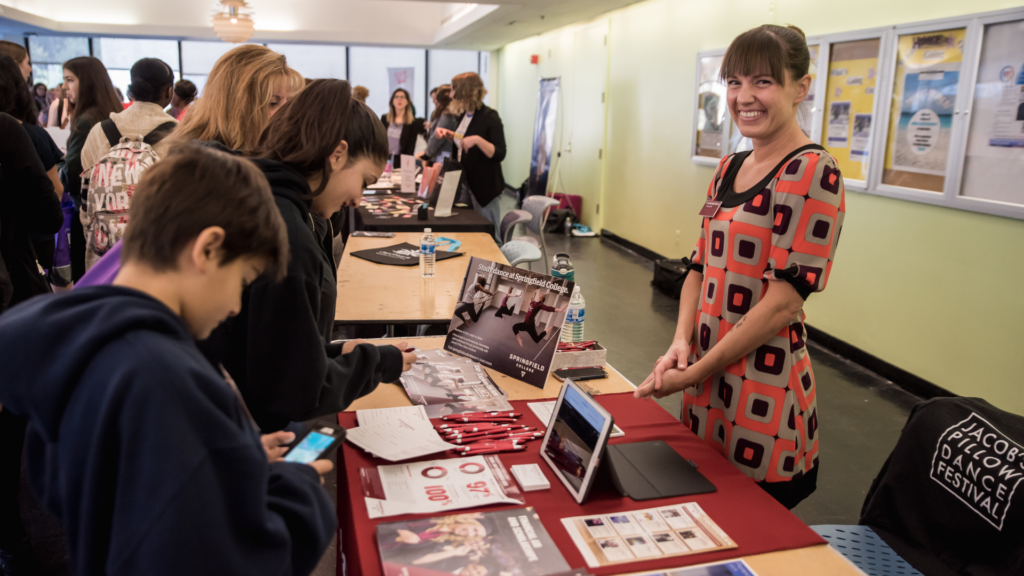 WHAT DTCB OFFERS COLLEGES
Registration benefits for participating colleges (depending on package chosen):

Virtual College Booths give your program a landing page to promote on our website until May 2021
Zoom College Fair & Peer-to-Peer Panels: Reserved seats for 2 representatives and 1 current student alumni from your program (View our tentative schedule here)
Audition Panel Videos (Ballet & Modern/Improv), resumes, and headshots for up to 200 graduating seniors
Half or full-page advertisement in DTCB digital event program
List of targeted student leads interested in learning more about your program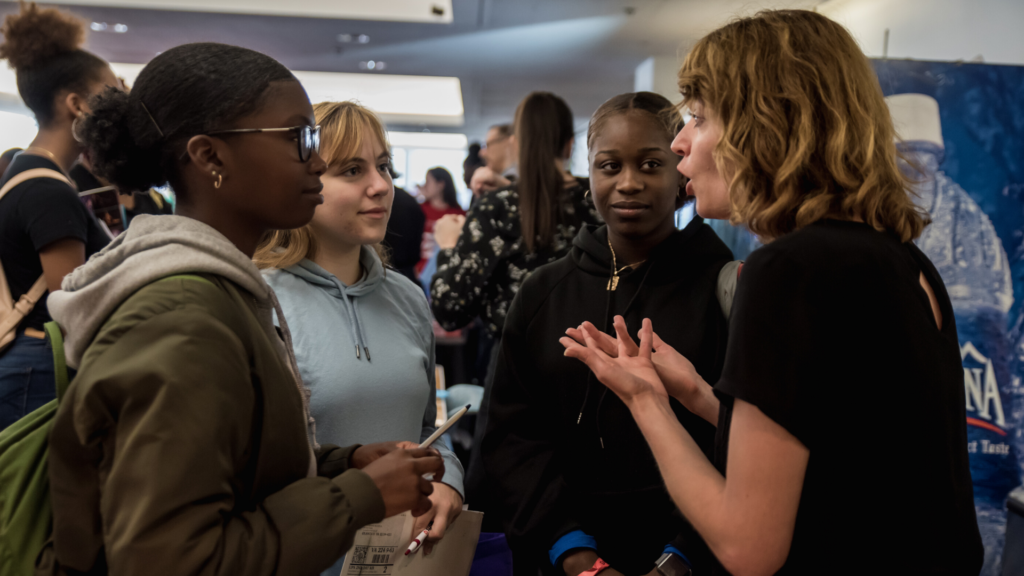 VIRTUAL COLLEGE FAIR PANELS
Up to 60 DTCB colleges may participate in our College Fair, which is broken up into groups of 30 unique colleges featured over each of the two event weekends. Our staggered schedule of live Zoom College Fair Panels takes place on Saturdays, maximizing air time for schools to best simulate an in-person College Fair experience.
Each College Fair Panel features a group of up to 3 schools, structured to include the following:
20 minutes: School & program introductions
35 minutes: Representatives respond to a live group Q&A poll
35 minutes: Switch into individual breakout rooms for more one-on-one face time with your targeted-interest students
On Sundays, Peer-to-Peer Panels give one current student or alumni from your program the opportunity to speak directly with students about their experience in your program — a DTCB student favorite!
PLEASE NOTE: Colleges must be initially available for both event weekends until a final College Fair Panel schedule is finalized. The finalized schedule of College Fair and Peer-to-Peer Panels will be released in September.
VIRTUAL COLLEGE BOOTHS
Our new DTCB event website offers an expanded ability to promote colleges and dance programs through Virtual College Booths. Colleges provide marketing materials during their registration and checkout process. Each school package includes up to a 10-month "lease" on our site through their own customized Virtual Booth, available for interested students to peruse from now until May 2021. Virtual Booths will remain exclusive for DTCB attendees until November 1st, when the site will be released to the general public.
Use your Virtual College Booth as a landing page to spark conversations with families: schools can include a link to their program brochure, direct contact/auto-scheduler for meet-and-greets, and more. Maximize your advertising potential with the option to include video and additional photo highlights, available with select College Packages.
Don't want to participate in our College Fair? You can choose our Virtual Booth Only Package for a non-event, marketing-only option.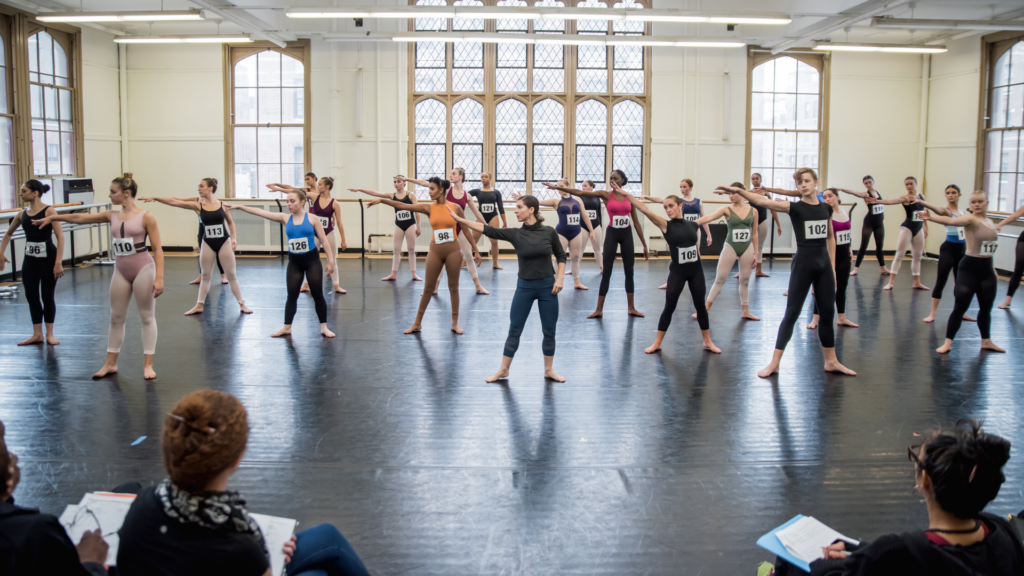 VIRTUAL AUDITIONS
In the absence of live, in-person auditions this year, registered DTCB Audition Panelists will receive a password to view the DTCB Audition Database, accessible at your convenience through our website College Portal.

The Audition Database features a profile of each graduating senior Auditionee that includes the following materials:
Auditionee headshot
Auditionee resume
Auditionee high school name & location
Links to required Audition Video assignments of pre-determined Ballet and Modern/Improvisation phrase material, universal across all Auditionees
Link to an optional 3rd Audition video in a dance style of their choosing. Dancewave believes that all students should have the opportunity to feel fully self-expressed in their talent and culture
Non-auditioning seniors will be featured under a basic Senior Profile, including headshot and resume.
Imagine the value of DTCB to our student Auditionees, with the ability to audition for dozens of different colleges & universities from across the country… all in one place. DTCB Auditions have not only generated over $10 million in scholarship for students, but they have also saved families thousands of dollars in travel expenses during their nerve-racking college search and audition season.

Please note: To maintain the value of DTCB for both students and colleges, all schools participating in the DTCB Audition Panel should have the ability to accept students into their dance program based on the DTCB audition.
Preview our Virtual Auditions format:
DTCB 2020 Package Options: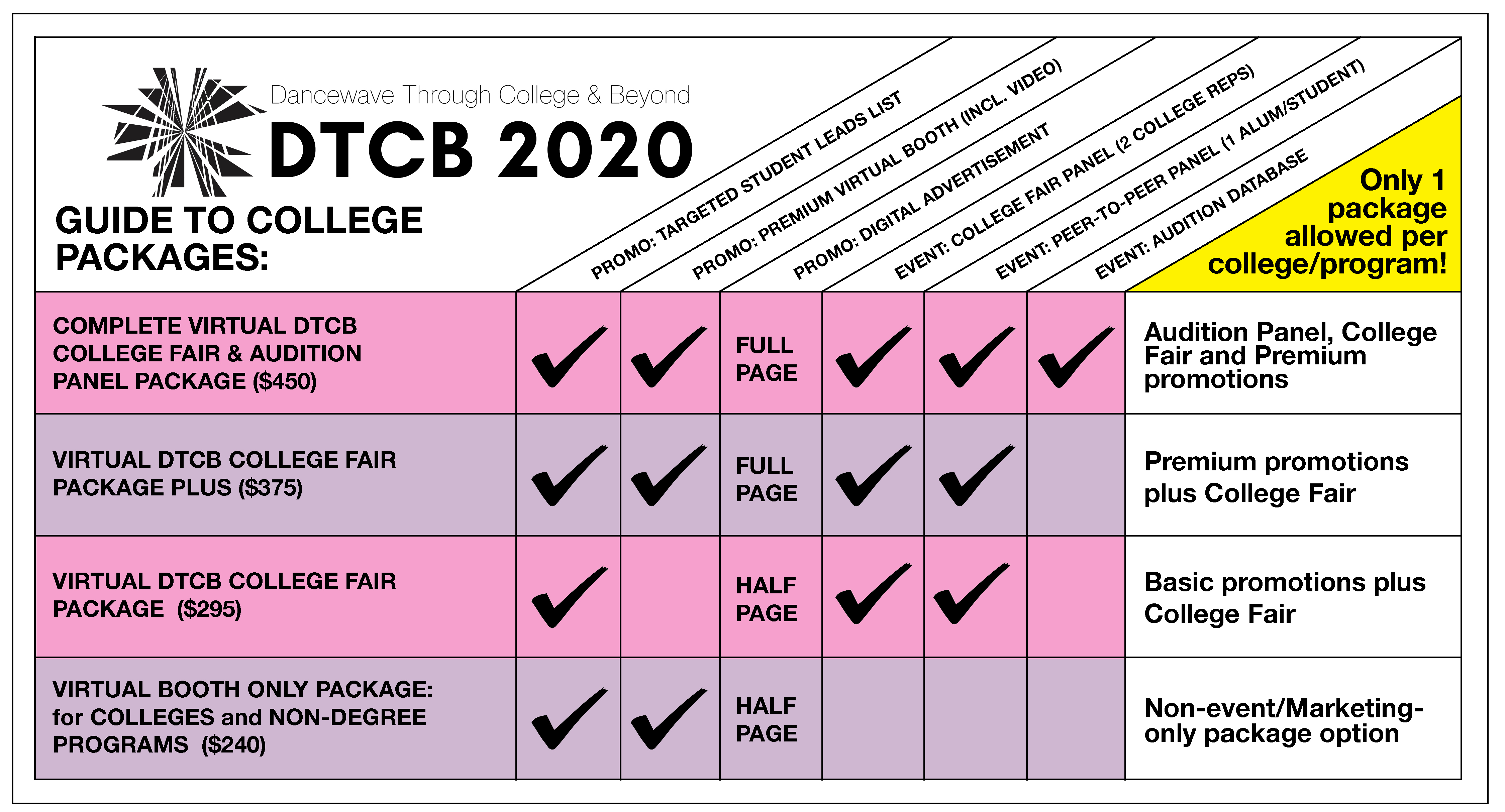 PRIORITY REGISTRATION EXTENDED! Register by August 15th to be included on Dancewave's DTCB 2020 earliest media release.
COLLEGE REGISTRATION CLOSED! DEADLINE AUGUST 31