DTCB 2020 Guest Presenter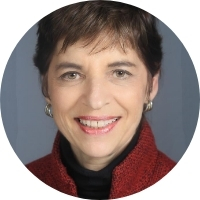 Career Counselor Supervisor, The Career Center of The Actors Fund
Certificate in Career Development, Cal State Northridge; MS in Journalism, Columbia University
WORKSHOP DESCRIPTION
How can dancers take advantage of their college years to build the bridge to their future careers? In this two-part workshop, students will clarify strategies for thinking about and taking actions to build skills and resilience as dance makers and thinkers. Week 1 will focus on tasks and goals in Freshman and Sophomore years. Week 2 will look at ways to build opportunities in Junior and Senior years and beyond.
ABOUT PATCH SCHWADRON
Patricia (Patch) Schwadron, Career Counselor Supervisor of The Career Center at The Actors Fund, has provided career counseling to performing artists and entertainment professionals for over 20 years. Patch started her professional life performing with The Boston Ballet and decades later pursued training in educational psychology and career counseling at California State University, Northridge – with a focus on the career development and management needs of arts professionals. She oversees programming for dancers at every stage of their careers.
---